Every accident requires active participation from the driver. You cannot take them out of the situation. But you can prepare them, and your response team, with the training and tools to manage the incident.
The AccidentPlan platform and advanced crash protocol has four components:
The platform or app – lives on the driver's handheld device, records the data, uploads it to the portal, and sends status notifications to key personnel during the process
The online portal – for the motor carrier to observe and manage the situation from their location and watch the report develop in real-time
The comprehensive accident report for rapid claims reporting and resolution
Seven-chapter training video on advanced accident scene protocol
Here's how it works.
The App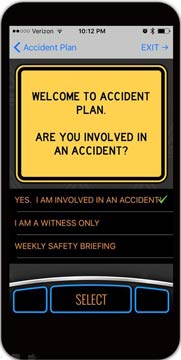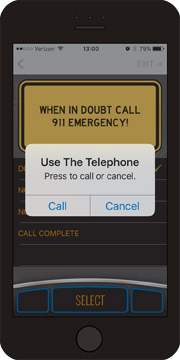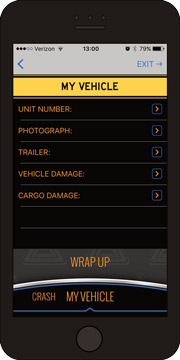 The driver taps the triangle icon to open the app. If they indicate they have been in an accident, notifications are automatically and immediately sent to key personnel.
The driver is guided through a series of questions, directions and behavior reminders in a descending order of importance such as:
Assessing the severity of the crash and the potential need for emergency services.
Safely securing the scene.
Cooperating with authorities, but not discussing fault.
Taking appropriate photographs and gathering crucial, perishable data.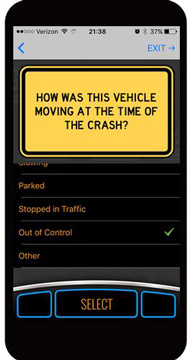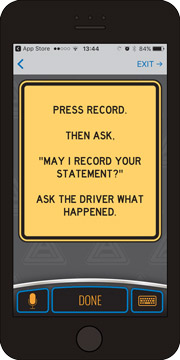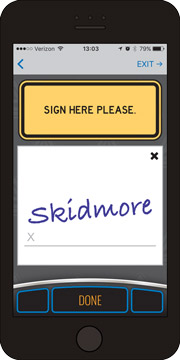 Directions to the driver are modeled after the caution sign.
Inputs from the driver resemble an automotive control surface.
Only three gestures are required: scroll, swipe, and tap.
Data elements collected are based on the Model Minimum Uniform Crash Criteria.
The Portal
At that first notification of an accident, an administrator can log on to the customer portal and begin watching the report unfold in real-time.
Know the status of your driver and whether emergency personnel have been contacted.
The exact location of the accident using longitude and latitude
Instantly see photos of the scene
Know the status of your vehicle and cargo and begin recovery activities
Know whether your driver needs a drug and/or alcohol test
A report number is created and the date, time, and GPS location is recorded. With a few clicks, you will know exactly where your driver is.
Items in bold are the questions, the driver's answers are below: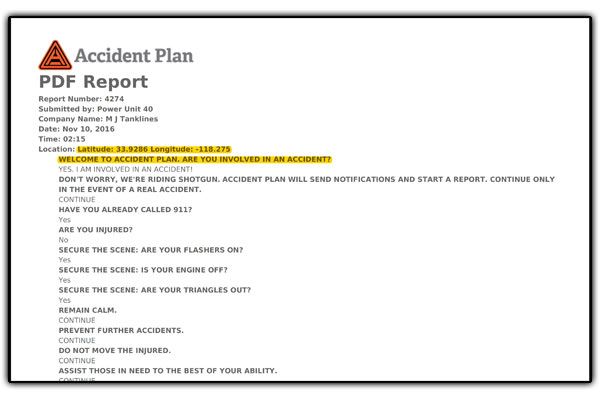 The arrows indicate when an email notification is triggered. The boxes demonstrate the email content that is sent: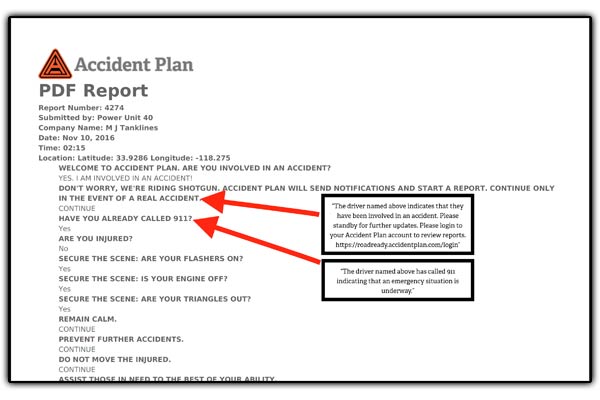 This report is shared with permission from one of our clients. Recordings and identifying information have been removed to protect the privacy of the individuals involved.
Save